RMSANZ- 2017 Rehabilitation Medicine Society of Australia and New Zealand: 2nd Annual Scientific Meeting, Sept. 17-20, 2017, National Convention Centre Canberra
http://www.dcconferences.com.au/rmsanz2017/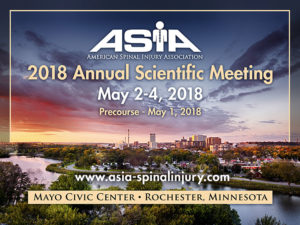 Call for Abstracts and Courses!
The American Spinal Injury Association (ASIA) invites Researchers, Clinicians, and other SCI Professionals to submit Abstracts for Oral and Poster Presentations, Case Reports, and Courses.
Begin submission process here.  Submission Deadline: October 2, 2017 at 11:59:59 ET. 
» Read more about: Call for Abstracts and Courses: ASIA 2018 Scientific Meeting »