Congratulations to the 2020 ASIA Lifetime Achievement Award Recipient:
Diana D. Cardenas MD, MHA


Established in 1987, the ASIA Lifetime Achievement Award is presented to an individual who made a significant contribution to the world of spinal cord injury care. Criteria includes: career dedication, peer recognition, professional competence, and recognized achievement. Each recipient is chosen from a slate of candidates submitted by members to the Awards Committee. The committee forwards its recommendation to the ASIA Board for final approval.
Diana D. Cardenas MD, MHA, is a physiatrist with an academic career of more than 40 years and a clinical, teaching, administrative, and research career primarily focused on spinal cord injury. She joined ASIA in 1979 and has served as a Chair or member of twelve different committees. She was a member of the BOD of ASIA (1994-2000), a member of the Executive Committee of the NIDRR Model Systems (1996-2006), a member of the Board of Governors of the ACRM and elected of Fellow of the ACRM in 2002. She was Chair of the NICHHD NCMRR National Advisory Board on Medical Rehabilitation Research (2007-08), chaired the Research Advisory and Advocacy Committee of the AAPM&R (1997-2000), chaired the Women Physiatrists Special Interest Group (SIG) and chaired the SCI SIG of the AAPM&R. She served on the Advisory Board of the Rehabilitation Medicine Scientist Training Program and on the NIH Clinical Center's Board of Scientific Counselors. She has over 130 refereed journal publications, numerous textbook chapters, and has co-edited 10 books. Currently she is Professor and Chair, Emeritus of the Department of Physical Medicine and Rehabilitation (PM&R), University of Miami Miller School of Medicine, Miami, Fl. She is now serving on a National Academies of Sciences, Engineering, and Medicine committee on compounded topical pain creams and is a member of the BOD of the Foundation for PM&R.
She graduated from the University of Texas Southwestern Medical School in 1973 and trained in PM&R at the University of Washington from 1973-1976. As a resident she conducted a study in the rat model on disuse atrophy, as part of a Masters of Science thesis, that earned her a national award from the American Congress of Rehabilitation Medicine in 1976. She then became a PM&R faculty at Emory University in Atlanta serving as the Associate Chief of the Center for Rehabilitation Medicine until 1981 when she returned to Seattle and joined the Department of Rehabilitation Medicine at the University of Washington. She became the Principal Investigator/Project Director of the Northwest Regional SCI System and was funded by NIDRR every five years from 1990-2006. She conducted a number of studies on the neurogenic bladder, cytometry & urodynamics, reflex voiding, bacteriuria , portable ultrasound accuracy ( a study in the 1980's of the accuracy of the first US made portable ultrasound machine), urinary tract infections (UTIs), and hydrophilic catheters which culminated in a large prospective, randomized clinical trial conducted in the US and Canada on the efficacy of hydrophilic catheters to prevent the occurrence of symptomatic UTIs in acute SCI (Cardenas, et al, 2011).
Pain was a major area of research interest that began with her clinical experiences since she remained a full-time in-patient attending physician and Chief of Service while at the University of Washington Medical Center. In 1992 she became a full professor and in 1996 she became the principal investigator (PI) within a program project funded by the NIH, of the first randomized placebo-controlled trial of amitriptyline for chronic pain in persons with SCI. Her interest in treatment and classification of pain lead to many national and international collaborations and resulted in many publications in the area of chronic pain in SCI.
In 2001 Dr. Cardenas completed a Masters in Health Administration and in 2006 she was recruited to the University of Miami (UM) to be the first permanent Chair of the Department of PM&R, a new department in the UM Miller School of Medicine and helped pave the way for more women physician chairs to serve in the medical school. She recruited many new faculty, taught residents, cared for patients and provided clinical leadership as Chief of Service and Medical Director of Jackson Memorial Rehabilitation Hospital.  In 2011 she once again became the PI/Project Director of an SCI Model System (the South Florida SCI Model System) and led a team on research in musculoskeletal pain. She participated in a large, international multi-center trial of pregabalin conducted in 10 countries that resulted in its FDA-approval for SCI pain (Cardenas DD, Nieshoff EC, Suda K, et al. 2013). In 2016, she "retired" but continued to serve as co-PI for the next cycle of the South Florida SCI Model system and until July, 2019, when she fully retired, served as PI of a pain module within the SCI Model systems.
Her honors and awards include Who's Who of American Women, 1993; the New Jersey Medical School Excellence in Teaching Award in PM&R in 1996; Outstanding Patient Educator, University of Washington Medical Center (1998 & 2001); AAPM&R President's Citation Award, 2000 & 2002; The Best Doctors in America 2001- ; America's Top Doctors yearly since 2001; FACRM, 2002; ASIA Best Paper Award, 2nd place, 2004; elected to the National Academy of Medicine (formerly the IOM), 2004. Since 1996, she has served on four IOM Committees, and on the IOM Board on the Health of Select Populations (formerly the IOM Board on Military and Veterans Health). Since 2019 she has been serving on a fifth committee of the National Academy of Science, Engineering, and Medicine, the "Committee on Assessment of the Available Scientific Data Regarding the Safety and Effectiveness of Ingredients Used in Compounded Topical Pain Creams". She was selected for ELAM 2007. She was given the Ernest Bors Award for Scientific Development from the American Paraplegia Society in 2009; the Association of Academic Physiatrists Distinguished Academician Award, in March, 2013; and the Estin Comarr Award for Distinguished Clinical Service, American Paraplegia Award, ASCIP, 2016.
As the Program Director for the SCI Medicine Fellowship at the University of Miami (2007-2015) she supervised thirteen SCI fellows, some of whom have themselves become SCI Fellowship directors. Throughout her career she taught medical students and residents and sometimes other faculty.
Dr. Cardenas will be awarded the Lifetime Achievement award in New Orleans, May 3-6 during the 2020 Annual Scientific Meeting.
---
John Steeves, PhD receives the ASIA 2019 Lifetime Achievement Award in Hawaii


.



John Steeves received the Lifetime Achievement award during the SCI Summit, April 2019 in Honolulu, Haw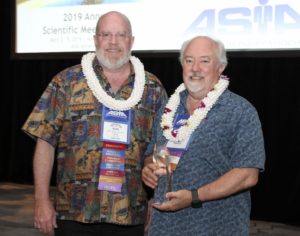 aii. Dr. Steeves was first appointed to the University of British Columbia (UBC) in 1979 and became a full Professor in 1992. He has been affiliated with several departments in the Faculties of Medicine and Science at UBC. In 2002, Dr. Steeves was the first appointment to the BC Leadership Endowed Chair program. He is a Distinguished Scholar of the Peter Wall Institute for Advanced Studies at UBC, recipient of the Champion of Change Award (Canada), and a Killam Research Fellowship (Canada). In 2017, he was appointed Professor Emeritus at UBC upon his retirement.
Perhaps more significantly, he is the founder of ICORD (International Collaboration On Repair Discoveries). Dr. Steeves was Director for the first fifteen years (1995-2010). ICORD has over 200 researchers led by over 30 faculty members investigating various aspects of spinal cord injury (SCI) from preclinical discovery, through acute clinical trials and best rehabilitation practices, to community integration and ongoing care of medical and social challenges.
Dr. Steeves brings more than 40 years of experience in SCI and neuroscience. He is or has been an executive member or chair of many national and international committees and organizations concerned with SCI, including ASIA and ISCoS. He also founded and is currently the co-chair of SCOPE (Spinal Cord Outcomes Partnership Endeavor), which is the international industry-academic-foundation roundtable for improving SCI clinical trial protocols, under the ASIA umbrella. He has an extensive list of over 150 publications, as well as a few patents. He founded and led a biotechnology company, and now serves as a clinical trial consultant to several pharmaceutical and biotechnology companies.
Over the years, his basic science research characterized the neural pathways from the brainstem to the spinal cord and their roles in the initiation and modulation of movement in all vertebrates, including humans. He has made significant contributions to the identification of CNS myelin as one inhibitory influence on functional CNS repair. Over the past two decades, he has focused his activities on translational research and human studies, including the development of: activity-dependent rehabilitation of arm and hand function, neurological and electrophysiological outcome measures after human SCI, and more importantly the design of valid clinical trial protocols and clinically meaningful outcome measures.
---
Past Lifetime Achievement Award Recipients
John Steeves, PhD
2019
Mary Bartlett Bunge, PhD and Richard P. Bunge, MD
2018
Fin Biering-Sørensen, MD
2017
Lawrence C. Vogel, MD
2016
P. Hunter Peckham, PhD
2015
Michael J. DeVivo, DrPH
2014
Lesley M. Hudson, MA
2013
Daniel P. Lammertse, MD
2012
Charles H. Tator, MD, PhD
2011
Randal R. Betz, MD
2009
J. Darrell Shea, MD
2008
Robert L. Waters, MD
Gale G. Whiteneck, PhD
2007
Hans Frankel, MD
2006
William H. Donovan, MD
2005
Jerome M. Cotler, MD
2003
Kristjan T. Ragnarsson, MD
2002
Henry B. Betts, MD
2001
John F. Ditunno, Jr., MD
2000
Theodore M. Cole, MD
1999
Paul R. Meyer, Jr., MD
1998
David F. Apple, Jr., MD
1997
Alain Rossier, MD
1996
J. Paul Thomas
1994
Samuel L. Stover, MD
1993
Albin T. Jousse, MD, OC, FRCP(C), LLD
1992
R. Edward Carter, MD
1991
A. Estin Comarr, MD
1990
John M. Young, MD
1987