The ASIA Awards Committee invites you to nominate a colleague for the ASIA 2019 Lifetime Achievement Award. Established in 1987, this award is presented by ASIA to an individual who has made a significant contribution to the world of spinal cord injury care. Criteria includes career dedication, peer recognition, professional competence, and recognized achievement. Each recipient is chosen from a slate of candidates submitted by members to the ASIA Awards Committee.  Please send your letter of nomination along with the nominee's CV to Patricia Duncan 
Patty@asia-spinalinjury.org
no later than
July 21, 2019
at 5:00 pm ET
Individuals currently serving as ASIA President, President-Elect, Immediate Past President, Research and Awards Committee Chairs and Vice Chairs are ineligible.
---
The 2018 ASIA Lifetime Achievement Award has been co-awarded to Dr. Richard P. Bunge and Dr. Mary Bartlett Bunge. Mary Bunge received the award at the 2018 ASIA Annual Scientific Meeting in Rochester, Minnesota.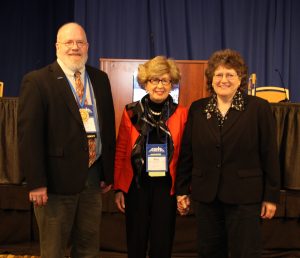 Richard P. Bunge, M.D. spent his lifetime at the forefront of research efforts to understand and improve the processes of repair in the nervous system. While a medical student, he discovered that myelin could be broken down and then reformed in the adult mammalian spinal cord, a revolutionary idea in the 1950s. This discovery initiated his lifelong love of research and abandonment of his goal to become a physician. This work led to the discovery, with Dr. Mary Bunge, of the mechanism of CNS myelination and the demonstration of the connections between forming myelin and oligodendrocytes. While still a young investigator Dr. Bunge and his colleagues, primarily Dr. Patrick Wood, developed a cell culture system in which myelination could be studied systematically and fundamental discoveries elucidating the processes underlying Schwann cell-neuron interactions could be made. He proposed in 1975 that cellular grafts, particularly of Schwann cells, could be prepared in tissue culture and then transplanted to enhance repair in the CNS. Accordingly, he pioneered studies of the biology of adult human Schwann cells as a prelude to possible autotransplantation into sites of spinal cord injury in the human. In 1990, he initiated an extensive and detailed characterization of the pathology of human spinal cord injury that provided novel and fundamental insights into the nature of that injury, including demyelination and axonal degeneration.
After obtaining his M.D. degree from the University of Wisconsin Medical School in 1960, Dr. Bunge went to Columbia University to learn the technique of nerve tissue culture with one of its founders, Dr. Margaret R. Murray. He then held faculty appointments in Anatomy at Columbia University College of Physicians and Surgeons from 1962 to 1970, and in Anatomy and Neurobiology at Washington University School of Medicine from 1970 to 1988, before joining the faculty at the Leonard M. Miller School of Medicine at the University of Miami. He held the Kinetic Concepts Distinguished Chair in Neurological Surgery and was Scientific Director of the Miami Project to Cure Paralysis. Throughout his distinguished career he published 153 peer-reviewed manuscripts in high quality neuroscience journals and was awarded an impressive array of grants from the NIH. Dr. Bunge received Javits Neuroscience Investigator Awards from the NIH, the Friedrich von Rechlinghausen Award for the Advancement of Medical Sciences in Neurofibromatosis, the Gordon Conference on Myelin Chairman Award, and the prestigious Wakeman Award for his pioneering work in tissue culture and cell biology of fetal cells, transplantation, and detailed descriptions of human spinal cord injury. He was named a Heiner Sell Memorial Lecturer by ASIA, a lecture he never gave due to his untimely death in 1996. Upon his passing an edition of Experimental Neurology was dedicated in his memory, in which the Section Editors Drs. Jerry Silver and Scott Whittamore wrote, "Those of us who work in these areas owe a great debt of gratitude to Richard Bunge and his legacy of scientific achievements."
Mary Bartlett Bunge, Ph.D., is currently Professor of Cell Biology, Neurological Surgery, and Neurology and the Christine E. Lynn Distinguished Professor of Neuroscience at the Miller School of Medicine, working in The Miami Project to Cure Paralysis. Dr. Bunge earned her M.S. degree in Medical Physiology under Thesis advisor, R.F. Schilling, at the University of Wisconsin Medical School (1955), and her Ph.D. in Zoology-Cytology with advisor, Dr. Hans Ris (1960). She was an NINDB Post-Doctoral Fellow (1960-62) in the Department of Anatomy (Dr. George D. Pappas) and Laboratory for Cell Physiology (Dr. Margaret R. Murray) at Columbia University College of Physicians and Surgeons.
Read more here about the lives and careers of Mary and Richard Bunge.
---
Past Lifetime Achievement Award Recipients
Fin Biering-Sørensen, MD
2017
Lawrence C. Vogel, MD
2016
P. Hunter Peckham, PhD
2015
Michael J. DeVivo, DrPH
2014
Lesley M. Hudson, MA
2013
Daniel P. Lammertse, MD
2012
Charles H. Tator, MD, PhD
2011
Randal R. Betz, MD
2009
J. Darrell Shea, MD
2008
Robert L. Waters, MD
Gale G. Whiteneck, PhD
2007
Hans Frankel, MD
2006
William H. Donovan, MD
2005
Jerome M. Cotler, MD
2003
Kristjan T. Ragnarsson, MD
2002
Henry B. Betts, MD
2001
John F. Ditunno, Jr., MD
2000
Theodore M. Cole, MD
1999
Paul R. Meyer, Jr., MD
1998
David F. Apple, Jr., MD
1997
Alain Rossier, MD
1996
J. Paul Thomas
1994
Samuel L. Stover, MD
1993
Albin T. Jousse, MD
1992
R. Edward Carter, MD
1991
A. Estin Comarr, MD
1990
John M. Young, MD
1987