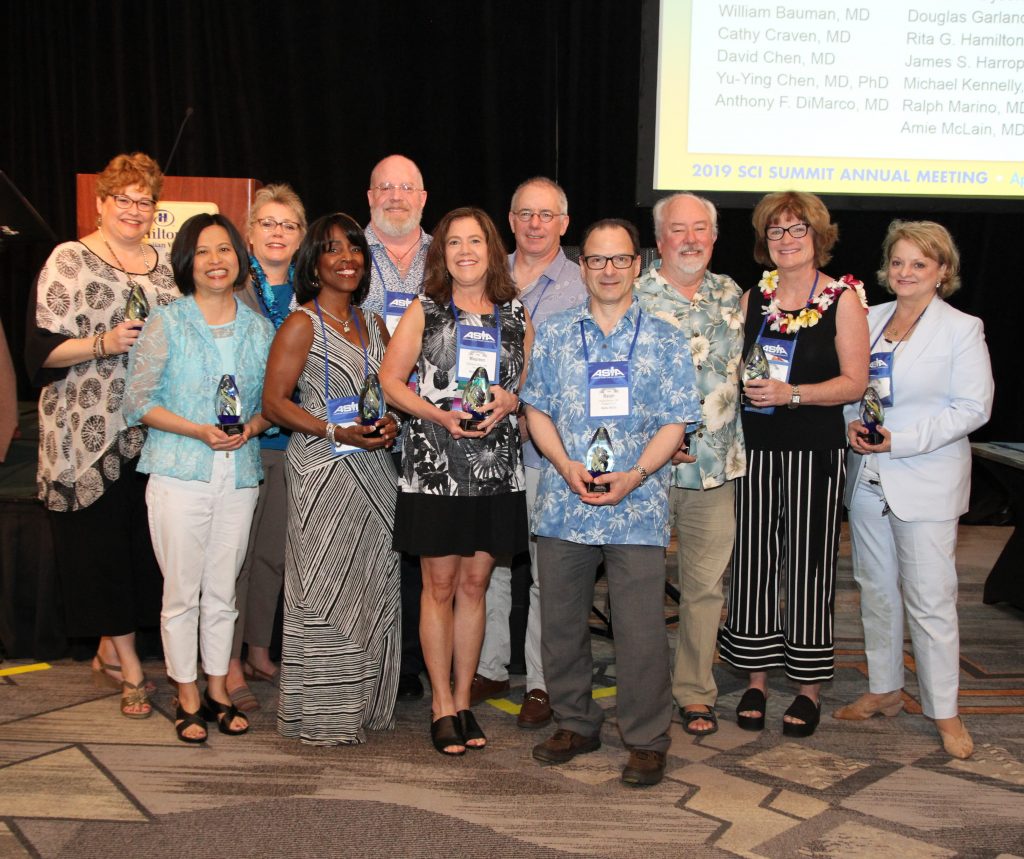 Congratulations to the 2019 Fellows of the American Spinal Injury Association.  The 2019 FASIA award recipients were announced and honored during the SCI Summit, April 5, 2019 in Honolulu, Hawaii.

Fellowship in the American Spinal Injury Association (FASIA) is bestowed by the Board of Directors in recognition of distinguished accomplishments within the fields of spinal cord injury research, clinical practice, education and advocacy, and for a longstanding active membership of service to the society.
The designation of FASIA recognizes prominent contributions to, and support of, ASIA's policies, practices, operations, and goals, which together advance its organizational mission. The designation also carries with it an unofficial obligation of maintaining an example of accomplishment for others in ASIA and providing continued leadership in the field.
2019 FASIA RECIPIENTS

Pamela Ballard, MD
William Bauman, MD
Cathy Craven, MD
David Chen, MD
Yu-Ying Chen, MD, PhD
Anthony F. DiMarco, MD
Trevor A. Dyson-Hudson, MD
Douglas Garland, MD
Rita G. Hamilton, DO
James S. Harrop, MD
Michael Kennelly, MD, FACS, FPMRS
Ralph Marino, MD
Amie McLain, MD
Maureen Miner, MD
MJ Mulcahey, PhD, OTR/L
Raymond P. Onders, MD, FACS
John Steeves, PhD
Denise Tate, PhD
Keith E. Tansey, MD, PhD, FASNR
Career Requirements
Candidates must have demonstrated excellence in at least one primary domain. Secondary domains will also be considered in the selection of a candidate for the award.  Domain categories and criteria include:
Research
Receipt of independent funding, publication and presentation of research findings, and a brief description of how this work has impacted the clinical and/or research field of spinal cord injury.
Education
Efforts that have improved the education of others in the field of spinal cord injury.
Clinical Practice
Excellence in providing and advancing practices of spinal cord injury clinical care.
Advocacy
Advocating for national and international recognition of advances in the field of spinal cord injury, and for endeavors that improve research and clinical care.
Service
Longstanding service in ASIA and other entities in the field of spinal cord injury with ASIA committee leadership, board membership, board officer duties, and within other foundations or societies, advisory committees, grant review panels, and the like.
Organizational Requirements
The candidate should have an outstanding record of active membership and service to ASIA for 10 years up to the point of nomination.  Presentation of research or clinical findings, leadership in workshops, committee participation and leadership, and organizational oversight (past board service, especially officer duties) of the organization will all be considered. Editorial service to journals associated with the organization does not necessarily justify nomination, although this service may be considered within the overall evaluation of the applicant.
Award Process
Awards of FASIA will be presented at the annual meeting by the ASIA President, unless extenuating circumstances exist (an awardee or the ASIA President are not available). Awardees will be presented with a statuette and lapel pin that identifies them as a "Fellow of the American Spinal Injury Association", which entitles them to attach the abbreviation "FASIA" after their other academic credentials.
Revocation
The Officers, Directors, and members of ASIA expect Fellows of ASIA to continuously uphold the highest standards of the organization, exemplify its mission, and serve as models for professionalism within the spinal cord injury community. Failure to uphold these standards through personal or professional misconduct may lead to revocation of the FASIA honor by the Board of Directors.
Membership/Eligibility Requirements
Current members of the Board of Directors and members of the Fellowship Subcommittee are ineligible for nomination.  Past board members may be nominated, but must satisfy all other eligibility standards.  So as to not punish Board members who then go on to the executive track with ineligibility for 6 more years, individuals in this category will be awarded FASIA upon the successful completion of their term as President of ASIA.