Updated in 2019!
International Standards for Neurological Classification of SCI (ISNCSCI) Worksheet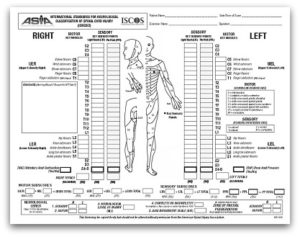 New ISNCSCI revision released !
The 2019 revision of the International Standards for Neurological Classification of Spinal Cord Injury (ISNCSCI) was released at ASIA's Honolulu meeting in Spring, 2019. This revision introduces two new concepts: 1) a new taxonomy for documentation of non-SCI related impairments such as peripheral nerve lesions or pain, and defines classification rules in the presence of such non-SCI conditions; and 2) the definition of the Zone of Partial Preservation has been changed and now can be used in some cases of incomplete injuries (ASIA Impairment Scale (AIS) grades B, C, and D) with absent motor function or sensory function in the most caudal sacral segments.
Click here to learn more about the new 2019 ISNCSCI Revision

---
Requests for Permission to Reprint

If you would like permission to reprint the ASIA ISNCSCI Worksheet, please complete an ASIA Permission to Reprint Form and return, with the exact image/worksheet you would like to use, to the ASIA office for review.

If approved, forms will be signed and returned to you within 5 to 10 business days. If permission is not given, you will receive notice with an explanation.