The Allied Health Professional Research Award of ASIA* is to encourage clinicians with an interest but limited experience in research to be mentored by an experienced researcher to develop a study from proposal to completion. Clinicians at the Master's or Clinical Doctorate level are eligible for this $25,000 one-year award.
The recipient will be selected by the ASIA Awards Committee and will receive his/her award in person at the ASIA Annual Meeting.  Recipients will be asked to present their work at the following ASIA meeting; registration for this meeting will be complementary.
Application Deadline:  15 August 2019
Criteria
Each applicant must:
Have a certified degree in an allied health professional field; a Master's or Clinical Doctorate is allowed but not required.
Submit a one-year Clinical Research Proposal in the field of SCI. The rationale should be supported by a recent review of the literature.
Provide an Applicant Statement about the interest in research (and any barriers encountered) and how this award will help reach the applicant's goals.
Declare a mentor who is an established researcher in the field of SCI or related area and is a member of ASIA in good standing at the application deadline. The following individuals are excluded from serving as mentors: ASIA President Elect (in second year), ASIA President (entire term), ASIA Past President (first year), ASIA research committee and the ASIA Awards Committee Chair and Vice Chair.
Complete the Application Form.
Submit Biosketches for the applicant and mentor
Submit Letters of Support from mentor and facility.
The applicant may not hold other funding for the proposed project.
Sample Score Sheet
Contact Patty Duncan (patty@asia-spinalinjury.org), the ASIA Executive Director, with questions about this funding opportunity.
*Funding provided by the Craig H. Neilsen Foundation
---
Jacob G. Long, PT, DPT, NCS, ATP/SMS, a physical therapist at the Methodist Rehabilitation Center in Jackson, Mississippi has been awarded the 2019 Neilsen-ASIA Research Award recipient. Mr. Long will receive $25,000 to fund his study, "Does the speed of robotic leg movements during tilt-table verticalization affect orthostatic hypotension in persons with subacute SCI?." He received the Neilsen-ASIA Research award during the 2019 SCI Summit in Honolulu, Hawaii.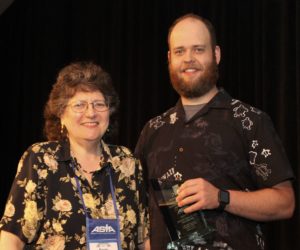 Jacob Long received his doctorate in physical therapy from the University of Mississippi Medical Center in 2013.  He initially worked in the outpatient setting in Fayetteville, North Carolina. Upon return to Jackson, he joined Methodist Rehabilitation Center in 2014. After a year in the stroke program Dr. Long transitioned to the spinal cord injury program to advance his education and clinical expertise through study of this complex condition. In parallel to his clinical duties, he achieved two assistive technology certifications from the Rehabilitation Engineering and Assistive Technology Society of North America (RESNA) – the Assistive Technology Professional (ATP) in 2016 and Seating & Mobility Specialist (SMS) in 2017. After passing the American Board of Physical Therapy Specialties board examination in Neurologic Physical Therapy (NCS) in 2018, he was promoted to the position of Clinical Specialist. In this role, he serves as a resource and mentor for other therapists and students, and actively collaborates with the investigators in the Methodist research division, the Center for Neuroscience and Neurological Recovery. In addition to his growing expertise in neuro-rehabilitation and robotic therapies, he performs complex wheelchair seating evaluations during inpatient rehabilitation. Dr. Long also participated in preparing and presenting lectures regarding the principles and challenges of seating and positioning in the inpatient rehabilitation setting. In addition to his clinical activities, he assists with the education of physical therapy students in the fields of seating/mobility, robotics, and neurologic physical therapy practice and participates in the Neurologic Physical Therapy Residency program through the University of Mississippi Medical Center.
---