Call for Nominations!
The ASIA Awards Committee requests nominations for the 2020 Apple Award.
The Apple Award for excellence in publishing in spinal cord injury rehabilitation literature is presented annually during the ASIA annual scientific meeting in recognition of the best published paper by a clinician or researcher in the preceding calendar year. Nominations will be accepted from the field for articles which address clinical or basic science research in spinal cord medicine.
The Apple Award is named in honor of David F. Apple, Jr., MD, founding member and past-president of the American Spinal Injury Association (ASIA). The award is a collaboration of three entities that were critically important to Dr. Apple during his long career in orthopaedic surgery at the Shepherd Center in Atlanta, Georgia, where he served as founding medical director for 30 years.
Rules and Eligibility- Self nominations will not be accepted. Nominees do not have to be members of ASIA. The following individuals are not eligible for the Apple and Vogel Awards: ASIA President, President-Elect, Past President, Research and Awards Committee Chair and Vice Chair.
---
2019 Apple Award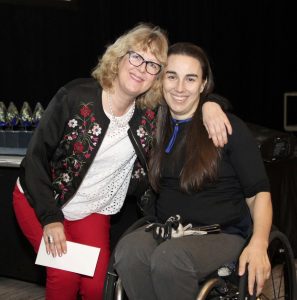 Morgan Callahan, MD and Rachel Cowan, PhD are recipients of ASIA's 2019 Apple Award.  Their paper titled "Relationship of Fitness and Wheelchair Mobility With Encounters, Avoidances, and Perception of Environmental Barriers Among Manual Wheelchair Users With Spinal Cord Injury" appeared in Archives of Physical Medicine and Rehabilitation, October, 2018.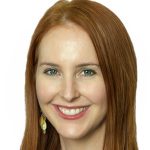 Dr. Callahan is originally from Miami, Florida, and received her undergraduate degree at Northwestern University where she studied psychology and political science. She earned her medical degree from the University of Miami, at which point she also performed research in the Applied Physiology Laboratory with Rachel Cowan, Ph.D., at the Miami Project to Cure Paralysis. She is completing her residency in Physical Medicine and Rehabilitation at the Shirley Ryan Ability Lab in Chicago and will start her Multidisciplinary Pain Management Fellowship at Northwestern University in July 2019. Dr. Callahan has a particular interest in the management of chronic pain in individuals with spinal cord injuries.
Dr. Cowan is an assistant professor in the Department of Physical Medicine and Rehabilitation at the University of Alabama at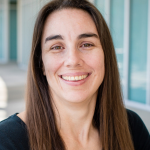 Birmingham. She previously was a Research Assistant Professor of Neurological Surgery at the University of Miami (Miami, FL) and a Principal Investigator for the Miami Project to Cure Paralysis. Dr. Cowan was an NIH Pre-doctoral fellow; a Paralyzed Veterans of America Post-doctoral fellow; Co-I on multiple NIDILRR grants; Co-I on the previous and current South Florida Spinal Cord Injury Model Systems grant, and PI on a multi-site DoD grant. Dr. Cowan's research focus is developing, testing, and translating cost effective fitness, mobility, and assistive technology interventions that improve independence, decrease burden of care, and enhance quality of life in PMR populations. Dr. Cowan's research foci are inspired by her experiences as an individual living with spinal cord injury and by the mobility challenges faced by many individuals as they age.
---
Previous Recipients of the Apple Award:
2018
Brian Kwon, MD
Vancouver, BC, Canada
2017
Philip Popovich, PhD
Columbus, Ohio
2016
Spyridon Karadimas, MD, PhD
Toronto, ON, Canada
2015
Meegan G. Van Straaten, PT, MSPH
Rochester, MN
2014
Jacquelyn J. Cragg, MPH
Vancouver, BC, Canada
2013
Ralph J. Marino, MD
Philadelphia, PA
2012
Mark S. Nash, PhD
Miami, FL
2011
Christopher D. Pritchard, PhD
Boston, MA
2010
Anthony F. DiMarco, MD
Cleveland, OH
2009
James S. Krause, PhD
Charleston, SC
2008
Christopher Patrick Smith, MD
Houston, TX
2007
Mary Jane Mulcahey, PhD
Philadelphia, PA