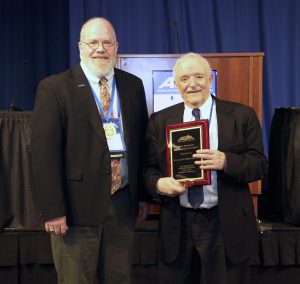 The Distinguished G. Heiner Sell Lectureship was presented at the 2018 ASIA Annual Conference by William "Zev" Rymer, MD, PhD.  Dr. Rymer is Director of the Single Motor Unit Laboratory at the Shirley Ryan AbilityLab (formerly the Rehabilitation Institute of Chicago). He is a Professor in the Departments of Physiology, Physical Medicine and Rehabilitation, and Biomedical Engineering, at the Northwestern University Feinberg School of Medicine and in the McCormick School of Engineering and Applied Science (MEAS). Dr. Rymer also holds an appointment as a Research Scientist at the Hines VA. Over the past four decades, Zev Rymer has been widely recognized as a leader in rehabilitation research. His research spans topics from basic mechanisms of pathophysiology after SCI to clinical issues such as spasticity and engineering approaches to neurological rehabilitation.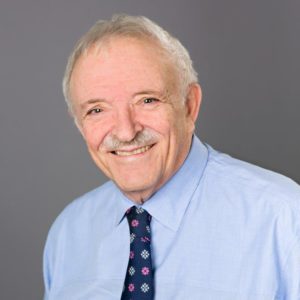 Dr. Rymer's research program has received funding from governmental and non-governmental organizations, including PVA, the Neilsen Foundation, the VA, and NIDILRR. Notably, Dr. Rymer has been continually funded since 1993 by the NIH in research topics directly relevant to SCI. Some specific examples of his contributions include studies of spinal reflex mechanisms in preclinical models, where Dr. Rymer showed novel responses of golgi tendon organs during activated reflex and helped to identify mechanoreceptors in free nerve endings as a source of inhibition of muscle strength. In clinical studies, Dr. Rymer most recently pioneered the study of potential therapeutic effects of acute intermittent hypoxia, combined with over ground and treadmill based rehabilitation programs. His current bioengineering studies include developing evidenced-based approaches to quantify time and effort devoted to use of robotic and computer-based interventions in rehabilitation, and developing new technologies for advancing mobility and reintegration after SCI or stroke. His Feinberg faculty profile provides a link to his more than 300 publications, which have received more than 9000 citations.
Zev Rymer received his MD with honors at Melbourne University Medical School (1962) and his PhD in Neuroscience (1973) at Monash University in Australia. After completing his residency at Prince Henry's Hospital, part of Monash University Department of Medicine (1967), he was boarded in internal medicine (FRACP). He performed postdoctoral training at the NIH with Dr. Robert Burke in the Lab of Neural Control and with James Houk, MD and Vernon Mountcastle, MD in the Department of Physiology at Johns Hopkins University Medical School. He began his independent academic career as an assistant professor of Neurosurgery and Physiology at SUNY Syracuse (1976), then moving to Northwestern University Medical and Dental Schools (1978) in Chicago, where he rose through the academic ranks to full Professor (1987) at what is now known as the Feinberg School of Medicine. Prior to his current role at SRALab, Dr. Rymer served in many academic leadership roles at Feinberg and RIC, including as the John G. Searle Chair of Rehabilitation Research (1989-2014), Vice President for Research (2008-2014), and Director of the Sensory Motor Performance Program (1987-2017).
The G. Heiner Sell Lectureship was inaugurated in 1982, following the untimely death of Dr. Sell the previous year. At that time, Dr. Sell was President-Elect of ASIA, and the association wanted to memorialize him by presenting this named lecture as the keynote of its annual scientific meeting.
Previous Sell Lecturers
Jacqueline C. Bresnahan, PhD, San Francisco, California
"Modeling SCI in Animals To Understand The Human Condition, and Vice Versa."
2017
Steven Kirshblum, MD, West Orange, New Jersey
"When You Come to a Fork in the Road: Lessons Learned and a Map for the Future."
 2016
Michael L. Boninger, MD, Pittsburgh, Pennsylvania
"The future of neural prosthetics in SCI"
2015
W. Dalton Dietrich, III, PhD, Miami, Florida
"Protection and Repair After Spinal Cord Injury: Accomplishments and Future Directions"
2014
Kristjan T. Ragnarsson, MD, New York, New York
"ASIA 40th Anniversary: Beginnings, Accomplishments, and Future Challenges"
2013
William Bauman, MD, Bronx, New York
"Secondary Medical Consequences of SCI"
2012
Andrew R. Blight, PhD, Hawthorn, New York
"Therapeutic Development in SCI: A View from Industry"
2010
Jonathan R. Wolpaw, MD, Albany, New York
"Using Spinal Cord and Brain Plasticity in Rehabilitation: Reflex Conditioning and Brain-Computer Interfaces"
2009
Mark Tuszynski, MD, PhD, San Diego, California
"Enhancing Plasticity and Regeneration after SCI: Challenges of Clinical Translation"
2008
Arthur Prochazka, MD, Alberta, Edmonton
"New Technologies in SCI Management"
2007
Volker Dietz, MD, Zurich, Switerland
"Neuronal Plasticity after SCI: Present and Future Treatments"
2006
Claire E. Hulsebosch, PhD, Galveston, Texas
"Treatments for SCI: Disproving the Smith Papyrus"
2005
Gale G. Whiteneck, PhD, Englewood, Colorado
"Measuring and Modifying SCI Outcomes"
2004
Barbara S. Bregman, PhD, Washington, DC
"Transplants and Neurotrophic Factors Increase Regeneration and Recovery of Function After SCI"
2003
Michal Schwartz, PhD, Rehovot, Israel
"Fighting the Consequences of SCI by Harnessing the Immune System: Prospects for Therapeutic Vaccination"
2002
Mary B. Bunge, PhD, Miami, Florida
"Transplant Strategies to Improve Regeneration in the Adult Spinal Cord"
2001
Susan J. Harkema, PhD, Los Angeles, California
"Sensory Processing by the Human Lumbosacral Spinal Cord During Locomotion: Implications for Recovery of Walking after Neurologic Injury"
2000
Ake Seiger, MD, PhD, Stockholm, Sweden
"Human Fetal CNS Tissue Transplantation to the Injured Spinal Cord"
1999
Giles S. Brindley, MD, London, England
"Neuroprostheses in SCI"
1998
O. Lars Olson, MD, Stockholm, Sweden
"Spinal Cord Repair Strategies, Possibilities and Limitations"
1997
Charles H. Tator, MD, PhD, Toronto, Ontario
"Experimental and Clinical Studies of the Pathophysiology and Management of Acute SCI"
1996
William C. de Groat, PhD, Pittsburgh, Pennsylvania
"Mechanisms Underlying the Recovery of Lower Urinary Tract Function Following SCI"
1995
Paul J. Reier, PhD, Gainesville, Florida
"Neural Tissue Transplantation and SCI: Bridging the Gap Between Basic Science and Clinical Reality"
1994
Robert R. Menter, MD, Englewood, Colorado
"Aging and SCI: Exploring the Unknown"
1993
John F. Ditunno, Jr., MD, Philadelphia, Pennsylvania
"ASIA Standards 1992: Past and Future"
1992
V. Reggie Edgerton, PhD, Los Angeles, California
"A Physiological Basis for Development of Rehabilitative Strategies for Spinal Injured Patients"
1991
Martin E. Schwab, PhD, Zurich, Switzerland
"Inhibitors of Neurite Growth: Role in CNS Regeneration"
1990
David C. Viano, PhD, Detroit, Michigan
"Cause and Control of SCI in Automobile Crashes"
1989
Bernard Towers, MD, Los Angeles, California
"Quadriplegia and Life Extension: Who Decides?"
1988
Edward J. McGuire, MD, Ann Arbor, Michigan
"Fertility in SCI Patients"
1987
John Doyle, Washington, DC
"Renewal with Challenge for a Specialty Disability Group: SCI"
1986
P. Hunter Peckham, PhD, Cleveland, Ohio
"The State of the Art in FES"
1985
Albert J. Aguayo, MD, Montreal, Quebec
"Axonal Regeneration from the Adult Mammalian Brain and Spinal Cord"
1984
R. Edward Carter, MD, Houston, Texas
"Respiratory Function in SCI"
1983
J. Paul Thomas, Washington, DC
"SC Dysfunction: A Unique Model for American Medicine"
1982