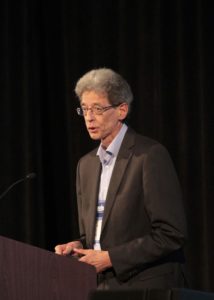 The ASIA 2019 Distinguished G. Heiner Sell Lecture "Restoring Quality of Life After Spinal Cord Injury" was presented by Marcel Post, PhD during the SCI Summit in Honolulu, Hawaii.
Dr. Post studied psychology and graduated in 1985. He has been a special (research) professor of spinal cord injury rehabilitation at the University of Groningen since 2014. He is also the leader of the spinal cord injury research program at the Center of Excellence for Rehabilitation Medicine (University Medical Center Utrecht and De Hoogstraat Rehabilitation) in Utrecht, the Netherlands.
Dr. Post's research interests include participation, quality of life, psychological factors, self-management and empowerment, and instrument development in these areas. He is author or co-author of more than 330 articles in peer-reviewed journals (Scopus Hirsch Index 49), and co-editor of the Dutch handbook of rehabilitation psychology and the Dutch clinical practice guideline on spinal cord injury rehabilitation.
Marcel Post serves as Associate/Section Editor of Spinal Cord and the Archives of Physical Medicine and Rehabilitation, the scientific committee of ISCoS and the executive committee of the International SCI Data Sets project.
The G. Heiner Sell Lectureship was inaugurated in 1982, following the untimely death of Dr. Sell the previous year. At that time, Dr. Sell was president-elect of ASIA, and the association wanted to memorialize him by presenting this named lecture as the keynote of its annual scientific meeting.
Previous Sell Lecturers
William Zev Rymer, MD, PhD
"Restoration of Motor Function in Persons with Chronic Spinal Cord Injury – A Potential
Therapeutic Role for Acute Intermittent Hypoxia (AIH)"
2018
Jacqueline C. Bresnahan, PhD, San Francisco, California
"Modeling SCI in Animals To Understand The Human Condition, and Vice Versa."
2017
Steven Kirshblum, MD, West Orange, New Jersey
"When You Come to a Fork in the Road: Lessons Learned and a Map for the Future."
 2016
Michael L. Boninger, MD, Pittsburgh, Pennsylvania
"The future of neural prosthetics in SCI"
2015
W. Dalton Dietrich, III, PhD, Miami, Florida
"Protection and Repair After Spinal Cord Injury: Accomplishments and Future Directions"
2014
Kristjan T. Ragnarsson, MD, New York, New York
"ASIA 40th Anniversary: Beginnings, Accomplishments, and Future Challenges"
2013
William Bauman, MD, Bronx, New York
"Secondary Medical Consequences of SCI"
2012
Andrew R. Blight, PhD, Hawthorn, New York
"Therapeutic Development in SCI: A View from Industry"
2010
Jonathan R. Wolpaw, MD, Albany, New York
"Using Spinal Cord and Brain Plasticity in Rehabilitation: Reflex Conditioning and Brain-Computer Interfaces"
2009
Mark Tuszynski, MD, PhD, San Diego, California
"Enhancing Plasticity and Regeneration after SCI: Challenges of Clinical Translation"
2008
Arthur Prochazka, MD, Alberta, Edmonton
"New Technologies in SCI Management"
2007
Volker Dietz, MD, Zurich, Switerland
"Neuronal Plasticity after SCI: Present and Future Treatments"
2006
Claire E. Hulsebosch, PhD, Galveston, Texas
"Treatments for SCI: Disproving the Smith Papyrus"
2005
Gale G. Whiteneck, PhD, Englewood, Colorado
"Measuring and Modifying SCI Outcomes"
2004
Barbara S. Bregman, PhD, Washington, DC
"Transplants and Neurotrophic Factors Increase Regeneration and Recovery of Function After SCI"
2003
Michal Schwartz, PhD, Rehovot, Israel
"Fighting the Consequences of SCI by Harnessing the Immune System: Prospects for Therapeutic Vaccination"
2002
Mary B. Bunge, PhD, Miami, Florida
"Transplant Strategies to Improve Regeneration in the Adult Spinal Cord"
2001
Susan J. Harkema, PhD, Los Angeles, California
"Sensory Processing by the Human Lumbosacral Spinal Cord During Locomotion: Implications for Recovery of Walking after Neurologic Injury"
2000
Ake Seiger, MD, PhD, Stockholm, Sweden
"Human Fetal CNS Tissue Transplantation to the Injured Spinal Cord"
1999
Giles S. Brindley, MD, London, England
"Neuroprostheses in SCI"
1998
O. Lars Olson, MD, Stockholm, Sweden
"Spinal Cord Repair Strategies, Possibilities and Limitations"
1997
Charles H. Tator, MD, PhD, Toronto, Ontario
"Experimental and Clinical Studies of the Pathophysiology and Management of Acute SCI"
1996
William C. de Groat, PhD, Pittsburgh, Pennsylvania
"Mechanisms Underlying the Recovery of Lower Urinary Tract Function Following SCI"
1995
Paul J. Reier, PhD, Gainesville, Florida
"Neural Tissue Transplantation and SCI: Bridging the Gap Between Basic Science and Clinical Reality"
1994
Robert R. Menter, MD, Englewood, Colorado
"Aging and SCI: Exploring the Unknown"
1993
John F. Ditunno, Jr., MD, Philadelphia, Pennsylvania
"ASIA Standards 1992: Past and Future"
1992
V. Reggie Edgerton, PhD, Los Angeles, California
"A Physiological Basis for Development of Rehabilitative Strategies for Spinal Injured Patients"
1991
Martin E. Schwab, PhD, Zurich, Switzerland
"Inhibitors of Neurite Growth: Role in CNS Regeneration"
1990
David C. Viano, PhD, Detroit, Michigan
"Cause and Control of SCI in Automobile Crashes"
1989
Bernard Towers, MD, Los Angeles, California
"Quadriplegia and Life Extension: Who Decides?"
1988
Edward J. McGuire, MD, Ann Arbor, Michigan
"Fertility in SCI Patients"
1987
John Doyle, Washington, DC
"Renewal with Challenge for a Specialty Disability Group: SCI"
1986
P. Hunter Peckham, PhD, Cleveland, Ohio
"The State of the Art in FES"
1985
Albert J. Aguayo, MD, Montreal, Quebec
"Axonal Regeneration from the Adult Mammalian Brain and Spinal Cord"
1984
R. Edward Carter, MD, Houston, Texas
"Respiratory Function in SCI"
1983
J. Paul Thomas, Washington, DC
"SC Dysfunction: A Unique Model for American Medicine"
1982