Translational Research or Human Neuroscience Studies in Spinal Cord Injury (TRoHNS) Award


.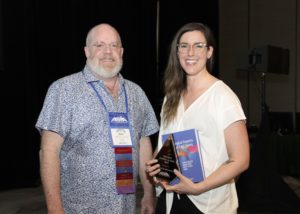 The 2019 TRoHNS award has been presented to Alexandra M. Williams PhD for her abstract  "A Cardiac-Centered approach to Hemodynamic Management Increases Spinal Cord Oxygenation in a Porcine Model of Acute High-Thoracic Spinal Cord Injury.
The TRoHNS award, sponsored by ASIA past president Keith Tansey, MD, PhD, has been instituted in alignment with ASIA's goal to support investigators across a broader continuum of spinal cord injury science and to encourage work in under-developed areas in the field.  The award is given for the best abstract submitted to the annual ASIA conference by a clinician or scientist involved in translational research or human neuroscience studies in spinal cord injury.
For the purposes of this award, translational research is defined as pre-clinical science (non-human studies) designed to improve mechanistic understanding of issues in clinical spinal cord injury in ways that cannot be studied in humans.  This work should be designed, however, to be translatable to human studies in the future.  Mechanistic studies will be favored over "black box" ones (for example, manipulating molecules but only evaluating behaviors).
For the purposes of this award, human neuroscience studies are defined as research into neurological injury, plasticity, or restoration in humans with spinal cord injury involving sensorimotor function, spasticity, pain, autonomic or other nervous system functions.  Pathological, imaging, electrophysiological, biomedical engineering, and similar mechanistic investigations will be favored over behavioral or clinical measures only studies.  This award is not designed for clinical trials work (rather human pre-trial research).
Rules and Eligibility
Submission deadline is the closing date for the General Call for Abstracts.
Submitters do not have to be members of ASIA but ASIA membership will be favored, as will junior investigator status. After reviewing all submitted abstracts self-identified for consideration for this award, the program committee will determine the top 5 papers in the areas of the award as outlined above and will forward these to the Research and Awards Committee and Dr. Tansey to determine the winner.
The award includes a cash prize and an award.
How to Apply
Submit your abstract in response to the general call for abstracts for the annual meeting and identify it for consideration for this award mechanism.
Individuals currently serving as ASIA President, President-Elect, Immediate Past President, Research and Awards Committee Chair and Vice Chair are ineligible for the TRoHNS Award.