Call for Nominations!
The ASIA Awards Committee requests nominations for the 2020 Vogel Award. The Vogel Award is given for the best paper by a clinician or researcher involved in pediatric SCI rehabilitation in the preceding calendar year.
The award honors Lawrence C. Vogel, MD, a recognized world expert on SCI in children. For the past 30 years, Dr. Vogel served as Medical Director of the SCI Program at Shriners Hospitals for Children in Chicago. He is also a past president of ASIA.
Rules and Eligibility- Self nominations will not be accepted. Nominees do not have to be members of ASIA. The following individuals are not eligible for the Vogel Award: ASIA President, President-Elect, Past President, Research and Awards Committee Chair and Vice Chair.
---
The 2019 Vogel Award has been awarded to Dr. Peter New for his paper "A narrative review of paediatric non-traumatic spinal cord dysfunction."  Dr. New received the Vogel award during the SCI Summit in Honolulu, Hawaii.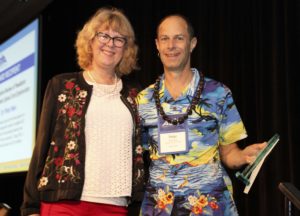 Dr. Peter New is the Clinical lead of the Spinal Rehabilitation Service, Caulfield Hospital, Alfred Health, in Melbourne, Australia. He is an Associate Professor at Monash University and a Principal Researcher with the Epworth-Monash Rehabilitation Medicine Unit, Monash University, Victoria, Australia.
Dr. New is a Fellow of the Australasian Faculty of Rehabilitation Medicine and the Chair of the Spinal Cord Damage Special Interest Group. He is a member of the Australian and New Zealand Spinal Cord Society and the International Spinal Cord Society and participates in numerous international working groups and research networks regarding spinal cord rehabilitation. Dr. New is the lead investigator of the International Spinal Cord Rehabilitation study group – a research collaboration of 10 units from around the world. He has almost 90 publications in peer-reviewed journals to his credit, along with 10 books or book chapters, with the majority of these are on different spinal cord rehabilitation topics. He has a very special interest in the management of patients with non-traumatic spinal cord damage.
---

Previous Recipients of the Vogel Award:
| | | |
| --- | --- | --- |
| 2018 | Joanne Baerg | Loma Linda, California |
| 2017 | John Shin | New York, NY |
| 2016 | Alicia January, PhD | Chicago, IL |
| 2015 | Feng Tian, PhD | Boston, MA |