.


Mulcahey Award for Research in Outcomes Measurement

The 2019 Mulcahey Award has been awarded to Andreane Richard-Denis MD for her abstract "The impact of early spasticity on the intensive functional rehabilitation phase and community reintegration following traumatic spinal cord injury." Dr. Richard-Denis is a Physiatrist at the Universite de Montreal in Canada.

The Mulcahey Award honors MJ Mulcahey, PhD, OTR/L, a recognized world expert in the rehabilitation of and measurement of outcomes specific to children with spinal cord injury and their families. Dr. Mulcahey served as the Director of Clinical Research and Rehabilitation at the Shriners Hospitals for Children in Philadelphia and is currently a Professor in the Department of Occupational Therapy in the College of Health Professions at Thomas Jefferson University.  She was also the first non-physician president of ASIA.

The MJ Mulcahey Award is given for the best abstract submitted to the annual ASIA conference, in the field of outcomes measurement (or outcomes research) in spinal cord injury rehabilitation.
---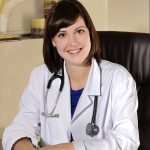 Dr. Richard-Denis MD, MSc. is currently assistant professor at the Faculty of Medicine of University of Montreal. She holds a clinician-scientist position at Hôpital du Sacré-Coeur de Montréal in Quebec, Canada in physiatry (physical medicine and rehabilitation) since 2017. She is specialized in rehabilitation medicine following an acute spinal cord injury in this Level-1 specialized trauma center, both for hospitalized and ambulatory patients. Her clinical and research expertise aim at identifying early predictors of the global outcome and developing rehabilitation strategies during the acute care phase to improve the care and recovery of patients with spinal cord injuries.
---
How to Apply
Submit your abstract in response to the general call for abstracts for the annual meeting. Submission deadline is the closing date for the General Call for Abstracts.
Rules and Eligibility
Submitters do not have to be members of ASIA. After reviewing all submitted abstracts for the conference, the program committee will determine the top three papers in the area of outcomes measurement and will forward them to the Research and Awards Committee to determine the winner. The award includes a cash prize of $1000.00 and an engraved plaque.
Individuals currently serving as ASIA President, President-Elect,  Immediate Past President, Research and Awards Committee Chair and Vice Chair are ineligible for the Mulcahey Award.