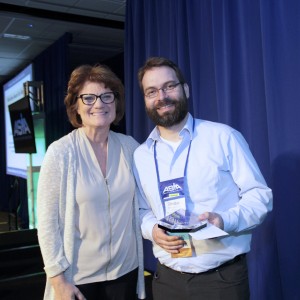 Mulcahey Award for Research in Outcomes Measurement
The first Mulcahey Award has been awarded to Christian Schuld, PhD Candidate for his abstract "Increasing the clinical value of the zones of partial preservation – A quantitative comparison of a new definition rule applicable also in incomplete lesions"
The Mulcahey Award honors MJ Mulcahey, PhD, OTR/L, a recognized world expert in the rehabilitation of and measurement of outcomes specific to children with spinal cord injury and their families. Dr. Mulcahey served as the Director of Clinical Research and Rehabilitation at the Shriners Hospitals for Children in Philadelphia and is currently a Professor in the Department of Occupational Therapy in the College of Health Professions at Thomas Jefferson University.  She was also the first non-physician president of ASIA.
The MJ Mulcahey Award is given for the best abstract submitted to the annual ASIA conference, in the field of outcomes measurement (or outcomes research) in spinal cord injury rehabilitation.
---
How to Apply
Submit your abstract in response to the general call for abstracts for the annual meeting. Submission deadline is the closing date for the General Call for Abstracts.
Rules and Eligibility
Submitters do not have to be members of ASIA. After reviewing all submitted abstracts for the conference, the program committee will determine the top three papers in the area of outcomes measurement and will forward them to the Research and Awards Committee to determine the winner. The award includes a cash prize of $1000.00 and an engraved plaque.
Individuals currently serving as ASIA President, President-Elect,  Immediate Past President, Research and Awards Committee Chair and Vice Chair are ineligible for the Mulcahey Award.