2017 Vogel Award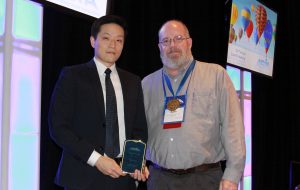 The 2017 Vogel Award Recipient is John Shin for a paper titled "Pediatric Cervical Spine and Spinal Cord Injury: A National Database Study."  The paper appeared in Spine, February 2016.  Co-authors include Nathan J. Lee and Samuel K. Cho.  Mr. Shin will be presented with the Vogel Award at ASIA's 2017 Scientific Meeting in Albuquerque, New Mexico. John Shin received the Vogel Award in Albuquerque, New Mexico during the ASIA 2017 Annual Conference.
John Shin is a medical student at the Icahn School of Medicine at Mount Sinai. Prior to medical school, he received his bachelor's degree in mathematics, economics, and biology at the University of Pennsylvania and worked at the McKay Orthopedics Research Laboratory under Dr. Robert Mauck researching tissue engineering.  Upon graduation, he will be training in orthopedics at Rutgers New Jersey Medical School and intends to do a fellowship in spine.
The Vogel Award is given for the best paper by a clinician or researcher involved in pediatric SCI rehabilitation in the preceding calendar year. The award honors Lawrence C. Vogel, M.D., a recognized world expert on SCI in children. For the past 30 years, Dr. Vogel has served as the Medical Director of the SCI Program at Shriners Hospitals for children in Chicago. He is a past-president of ASIA.

---
Previous Recipients of the Vogel Award:
| | | |
| --- | --- | --- |
| 2016 | Alicia January, PhD | Chicago, IL |
| 2015 | Feng Tian, PhD | |
---
2018 Nominations
Nominations for the 2018 Vogel Award will be accepted in the fall.
Rules and Eligibility
Self-nominations for the award are not accepted. Nominees do not have to be members of ASIA. The ASIA Research and Awards Committee reviews all nominations and selects the recipient. The award includes a cash prize and engraved plaque. The following individuals are not eligible for the Vogel Award: ASIA President, President-Elect, Immediate Past President, Research and Awards Committee Chair and Vice Chair.