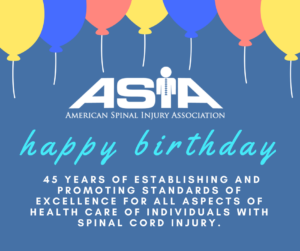 Happy Birthday American Spinal Injury Association! February 13, 2018 marks the 45th year of ASIA.
During the 1960s, physicians and other medical professionals engaged in the treatment of spinal cord injury sought to align themselves as a group, in an effort to exchange ideas and work together toward the establishment of a model for care delivery to this patient population. It was out of this group the American Spinal Injury Association (ASIA) was created in 1973. Help us celebrate our birthday and unwavering commitment to the lives of people with spinal cord injury. Consider making a birthday donation that will be acknowledged on our website.
Make a Donation here.