2018 Award Recipient Announced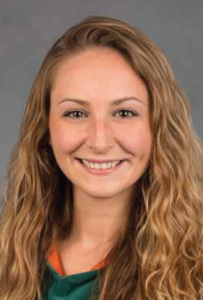 Dr. Anne Palermo of the University of Miami has been named as the 2018 Neilsen-ASIA Research Award recipient for her study titled "Seated Trunk Stability and Orthostatic Tolerance in SCI: Targeting the Diaphragm."
The Neilsen Foundation Allied Health Professional Research Award of ASIA is a one year award of $25,000 to a clinician at the Master's or Clinical Doctorate level. The purpose of the award is to encourage clinicians in the field of SCI to incorporate an element of research into their professional practice.
Dr. Palermo received her Bachelors in Biochemistry from Niagara University and continued on to gain her Clinical Doctorate in Physical Therapy from the University of Miami. Currently, Annie is working as a licensed physical therapist at the University of Miami Hospital in the acute setting and as a research therapist at the Miami Project to Cure Paralysis. Additionally, Annie is pursuing her PhD in Physical Therapy through the University of Miami's Department of Physical Therapy in the Miller School of Medicine under her mentor Dr. Lawrence Cahalin, Ph.D., PT, CCS. Throughout her scholastic and professional work, Annie has been honored with the Mary McMillan Scholarship Award, Florence P. Kendall Scholarship, and a Promotion of Doctoral Studies Scholarship (PODS I), from the Foundation of Physical Therapy.
Dr. Palermo will receive the award during a presentation at the 2018 ASIA Scientific Meeting in Rochester, Minnesota.