Call for Nominations! The Research and Awards Committee invites you to nominate a colleague for the 2018 ASIA Lifetime Achievement Award.
Established in 1987, this award is presented periodically by ASIA to an individual who has made a significant contribution to the world of spinal cord injury care. Criteria include: career dedication; peer recognition; professional competence; and recognized achievement. Each recipient is chosen from a slate of member submitted candidates to the Awards Committee. The committee forwards its recommendation to the ASIA Board for final approval. 

Please send your letter of nomination along with the nominee's CV to Patricia Duncan  Patty@asia-spinalinjury.org no later than July 31, 2017 at 5:00 pm ET
Individuals currently serving as ASIA President, President-Elect, Immediate Past President, Research and Awards Committee Chair and Vice Chair are ineligible. 
---
The ASIA Lifetime Achievement Award for 2017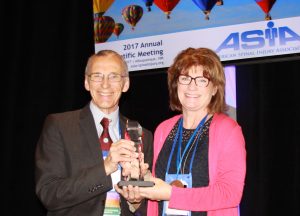 The 2017 recipient of the ASIA Lifetime Achievement Award is Professor Fin Biering-Sørensen. Professor Biering-Sørensen received his medical degree in 1975 from the University of Copenhagen and recognition as a specialist in physical medicine and rehabilitation and in rheumatology in 1982 and 1983, respectively. He defended his doctoral thesis in 1984. In 1986 he became chief physician, and then from 1992 head of the Clinic for Spinal Cord Injuries in the NeuroScience Centre at the Rigshospitalet. Since 2008 he has been clinical professor in spinal cord injury at the University of Copenhagen. He has been a member of the editorial board of Spinal Cord since 1990 and assistant editor since 2007. Dr. Biering-Sørensen was the medical chair during the 1988 Paralympics in Seoul, Korea, President of the Nordic Spinal Cord Society from 1993 to 1999 and President of the Danish Society of Rehabilitation from 1996 to 2000. From 2005 to 2008, he was Vice-President of the Danish Association for Neurorehabilitation. In the International Spinal Cord Society (ISCoS), Dr. Biering-Sørensen has served as a member of the Council since 1992; he was vice-president from 1997–2003 and chair of the Scientific Committee from 2002–2008. Dr. Biering-Sørensen has been an active member of ASIA since 2004, and has served on the Neurological Standards Committee, Autonomic Standards Committee, and the Education Committee.
Past Recipients
Lawrence C. Vogel, MD
2016
P. Hunter Peckham, PhD
2015
Michael J. DeVivo, DrPH
2014
Lesley M. Hudson, MA
2013
Daniel P. Lammertse, MD
2012
Charles H. Tator, MD, PhD
2011
Randal R. Betz, MD
2009
J. Darrell Shea, MD
2008
Robert L. Waters, MD
Gale G. Whiteneck, PhD
2007
Hans Frankel, MD
2006
William H. Donovan, MD
2005
Jerome M. Cotler, MD
2003
Kristjan T. Ragnarsson, MD
2002
Henry B. Betts, MD
2001
John F. Ditunno, Jr., MD
2000
Theodore M. Cole, MD
1999
Paul R. Meyer, Jr., MD
1998
David F. Apple, Jr., MD
1997
Alain Rossier, MD
1996
J. Paul Thomas
1994
Samuel L. Stover, MD
1993
Albin T. Jousse, MD
1992
R. Edward Carter, MD
1991
A. Estin Comarr, MD
1990
John M. Young, MD
1987