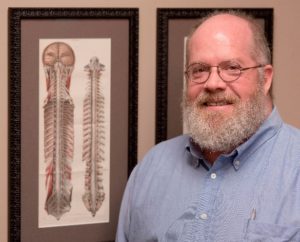 Welcome to ASIA!  We have just completed a very well received annual meeting and made a transition in our organizational leadership.  As the new president of ASIA (2017-2019), I look forward to ongoing and new successes for our society and for the field of spinal cord injury medicine and science.
By way of a little introduction, I am a physician scientist (MD, PhD) trained in Neuroscience (spinal cord physiology) and Neurology (neurorehabilitation).  I am currently a Professor at the University of Mississippi Medical Center in the Departments of Neurosurgery and Neurobiology and Anatomical Sciences, working to develop the Neurotrauma Center in our new Neuro Institute.  I am also a Senior Scientist in the new NeuroRobotics Lab in the Center for Neuroscience and Neurological Recovery, the research arm of Methodist Rehabilitation Center.  Finally, I work for the SCI Medicine and Research Services at the Jackson VA Medical Center.  We study neural plasticity after SCI in our VA and UMMC basic science labs and in our MRC human research lab and I care for SCI patients in our VA outpatient clinic.  In addition to work on committees in ASIA (ISCoS and ASNR too), I serve on SCI scientific advisory boards and in clinical trials oversight.
From the perspective provided by my career experience, and in response to current opportunities for ASIA in the field of SCI medicine and science, I laid out a vision for future growth and brand identity for ASIA at our recent business meeting.  To advance the cutting edge of development in SCI medicine and science, there is a need to connect across the SCI spectrum, from acute care, through rehab, to chronic care, and from basic science, to human studies to clinical trials.  The figure below shows where we are (small red oval) and where we could go (larger red oval).  This goal visualization got a lot of positive feedback at the meeting.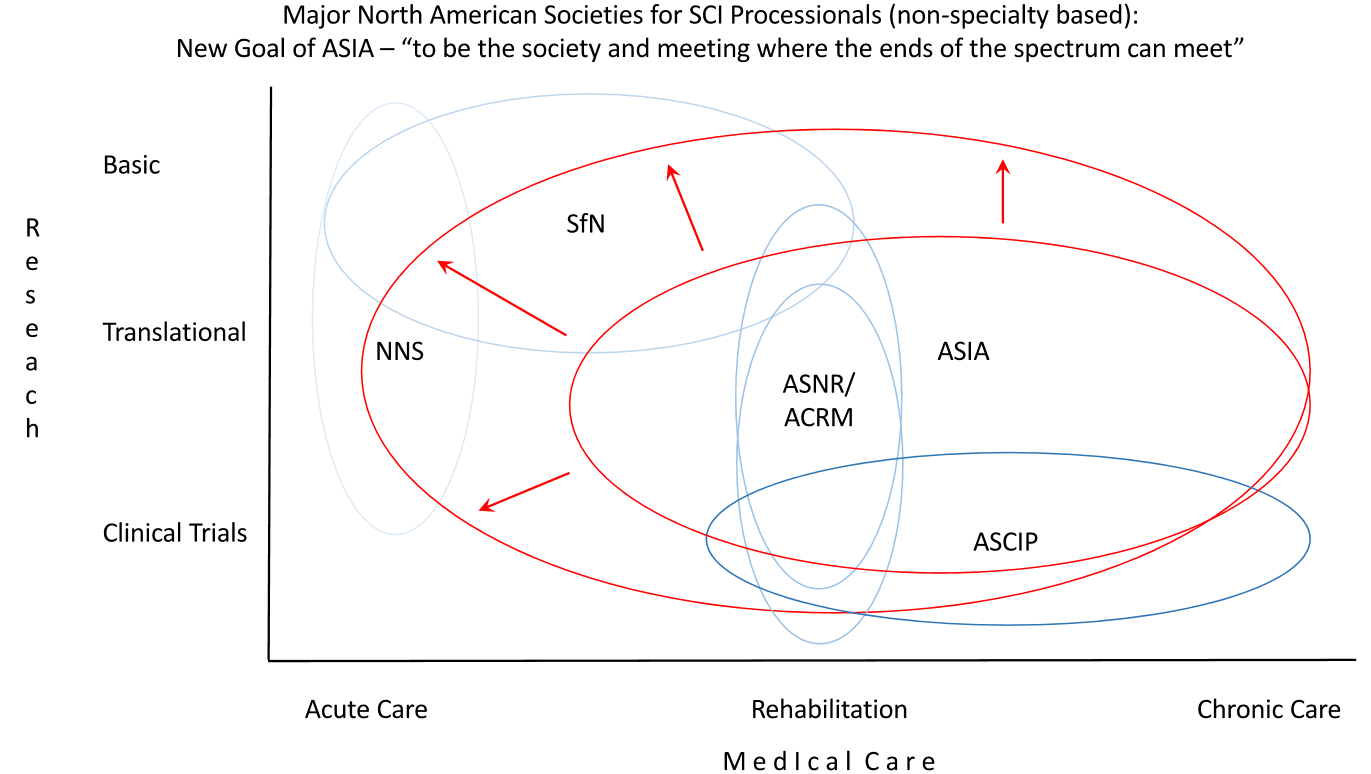 At the business meeting, I also mentioned a few other areas of development for ASIA committee work going forward.  Our Program Committee has started work on our 2018 annual meeting to be held at Mayo Clinic and we are working on a "SCI Lollapalooza" for 2019, a once in a decade kind of meeting between ASIA, ISCoS, National Neurotrauma Society, and ASCIP.  The International Standards Committee has been charged with updating the ISNCSCI exam booklet (and with the Education Committee, InSTEP training) as well as developing a truncated exam for appropriate clinical scenarios and an augmented exam with various "add on" options for research applications.  The Research and Awards Committee has been charged with developing criteria for a "Fellow of ASIA" recognition award for senior and long-time contributors to ASIA as well as implementing new awards for work in outcomes research (in honor of our past-president, MJ Mulcahey) and for translational science or human neuroscience research (I will fund this award).  The Ad Hoc Training Committee will continue to produce an ASIA training program for use by clinical trials and other industry partners.  Finally, the Membership Committee will work, along with the Program Committee, to attract new members to ASIA who could realize greater connection across the field of SCI medicine and science.  Imagine an ASIA meeting where a stem cell biologist and a neurosurgeon could get together, or where a physical therapist and a biomedical engineer designing robotics could compare notes, or where an animal physiologist and a human physiologist could exchange ideas about pre-clinical models, or, finally, where a neuro-critical care nurse and a rehab nurse could work to enhance quality of care in the transition of SCI patients from acute care to the rehab setting.
On behalf of the Executive Committee and the Board of Directors, I extend an invitation to you to increase your engagement in ASIA and help us move our field forward together.
Cheers,
Keith Tansey
ASIA President 2017-2019