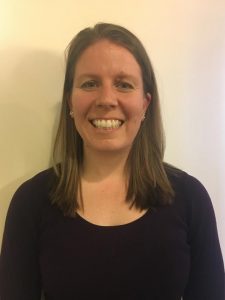 Margaret Jones, Acting Assistant Professor
How long have you been a member of ASIA?
Since February 2017
Why did you choose the SCI field?
I chose SCI medicine because it offered me the ability to take care of patients from all backgrounds and walks of life, no matter what their mechanism of injury. I chose SCI medicine for the opportunity to empower patients, to constantly work in an interdisciplinary team to meet patients' goals and for the ongoing challenge as a clinician to understand all the medical complications impacted by spinal cord injury.
Most recent accomplishments:
Acting Assistant Professor, University of Washington
Member, Hospital-Acquired Pressure Injury Committee, Harborview Medical Center
Invited lecturer, Chief of Medicine Conference, Department of Internal Medicine, University of Washington
Why did you join ASIA?
I joined ASIA for the opportunity to continue my learning as I transition into my early career in SCI medicine. The ASIA conference and ASIA website offer myriad learning opportunities to deepen my skillset as a clinician and provide direction and mentorship opportunities to help shape my career focus moving forward.
Biography:
2003 B.A. Biology, Minors: Psychology, English
University of Pennsylvania, Philadelphia, PA
2011 M.D.
Tulane University New Orleans, LA
2011 M.P.H. Community Health and Behavioral Sciences
Tulane University School of Public Health and Tropical Medicine, New Orleans, LA
2014-2015 Chief Resident, Rehabilitation Medicine Residency
University of Washington, Seattle, WA
2015 Graduated, Rehabilitation Medicine Residency
University of Washington, Seattle, WA
2015-2016 Fellow, SCI Medicine
Kessler Institute of Rehabilitation/Rutgers-NJMS, West Orange, NJ
2016-Present Acting Assistant Professor
University of Washington/Harborview Medical Center, Seattle, WA