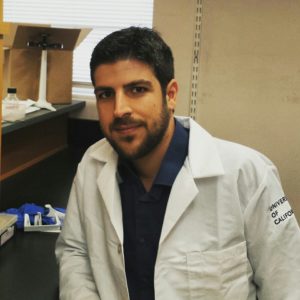 Nikolaos Kyritsis, PhD
How long have you been a member of ASIA?
2 months
Why did you choose the SCI field?
When I heard in a presentation that it's been over 4000 years from the first reported diagnosis (ancient Egypt) of an SCI and we are still not only lacking a cure but also many tools to make the life quality of SCI patients better, it astounded me. As a trained molecular biologist living in the era of advanced and hightroughput technologies I thought I can make a difference and try to bridge basic science with the clinics. Having growing up with a paraplegic brother I know first-hand (although not the same as an SCI) how it is to live your life on a wheelchair and through my science I am dreaming of wheelchair-less world.
Please list a few of your most recent accomplishments:
Wings for Life fellow (2018-2020)
 EMBO fellow (2015 -2017)
 CRTD e.V. award (friends and donors of CRTD) for the best Ph.D. thesis of the year 2013, Dresden, Germany
 Award from the Berlin – Brandenburg School for Regenerative Therapies Ph.D. for the most outstanding publication for progress in Regenerative Medicine accepted by a peer review journal, Berlin, Germany (2013)
Why did you join ASIA?
Although I started as a basic science researcher the past 2 years I have been doing clinical SCI research and have been collaborating closely with clinicians. ASIA is the perfect environment to foster more such collaborations which will strengthen significantly the scientific advancement in the SCI field.
Short Biography:
2015 – now: Postdoctoral Scholar in the laboratory of Drs Beattie and Bresnahan at UCSF
2014 – 2015: Postdoctoral Scholar in the laboratory of Dr. Michael Brand (Center for Regenerative Therapies Dresden)
2009 – 2013: PhD student at the International Max Planck Research School in Dresden, Germany in the laboratory of Dr. Michael Brand
2003 -2009: Diploma on Biological Applications and Technologies from University of Ioannina, Greece