Summer 2018 Issue
President's Message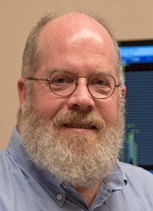 Keith Tansey, MD, PhD
By Keith Tansey, MD, PhD
ASIA President
Thank you to all who made the 2018 Annual Scientific Meeting a huge success. ASIA's achievements are a product of its wonderful volunteer work force, be they on the Board, in our committees, or as presenting members, along with the great efforts of our Executive Director, Patty Duncan, and that of our management company, Ruggles Service Corporation, especially Carolyn Moffatt, who really works hand in glove with Patty. I cannot thank
Read More...
_____________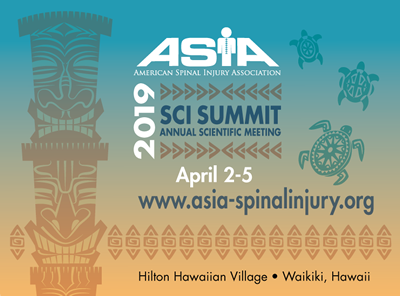 Mark your calendar for the
2019 ASIA SCI Summit!


2019 SCI Summit Call for Abstracts
The American Spinal Injury Association (ASIA) invites Researchers, Clinicians, and other SCI Professionals to submit Abstracts for Oral/Poster Presentations, Case Reports, and Courses to be presented at the SCI Summit, April 2-5, 2019.
_____________
Call for Nominations
ASIA 2019 Lifetime Achievement Award
The Awards Committee invites you to nominate a colleague for the ASIA 2019 Lifetime Achievement Award. This award is presented by ASIA to an individual who has made a significant contribution to the world of spinal cord injury care. Criteria includes career dedication, peer recognition, professional competence, and recognized achievement. Each recipient is chosen from a slate of candidates submitted by members to the ASIA Awards Committee. Please send your letter of nomination along with the nominee's CV to Patricia Duncan Patty@asia-spinalinjury.org no later than July 21, 2018 at 5:00 pm
_____________
News & Updates
SCI Model System Hosts Advisory Meeting


The annual Midwest Regional Spinal Cord Injury Care System (MRSCICS) Advisory Board meeting took place at the Shirley Ryan AbilityLab on Tuesday, April 24, 2018. The committee is comprised of a diverse mix of stakeholders, ranging from AbilityLab employees, VA administrators, consumers and many more. Together, advisors and researchers shared their knowledge and expertise to guide the activities of several projects, including "Using a Health Technology Assessment Framework for Evaluating the Utilization and Efficiency of Wearable Exoskeleton for SCI Rehabilitation and Daily Intermittent Hypoxia and Task-Specific Upper Limb Training in Persons with Chronic Incomplete SCI." The group dedicated time to address the needs of the SCI community and ways to use social media to recruit and reach target populations in research. The meeting was both informational and inspiring, and all parties involved deemed the meeting as a success.
_____________
ASIA Needs Your Help!
Share Your Gifts! Join a Committee!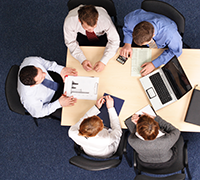 ASIA is looking for enthusiastic members who want to get involved. Committees are a great way to gain experience, network, pay it forward and become a leader. Read about our ASIA committees here .
If you would like to join one of our committees, complete a new streamlined committee application, save and return to Carolyn Moffatt carolyn@asia-spinalinjury.org.
_____________
New Fellowship
Spinal Cord Injury Medicine Fellowship
The University of Louisville, in conjunction with Frazier Rehab Institute, has announced ACGME accreditation of a new Spinal Cord Injury Medicine Fellowship (SCIMF). The program, housed within the department of Neurosurgery at the University of Louisville, will train fellows alongside residents and medical students in the PM&R and Neurosurgery residency programs. The Fellow will be provided with the opportunity to learn all the aspects related to acute and chronic spinal cord injury medicine including diagnosis and management of traumatic and non-traumatic SCI, neurogenic bladder and bowel, sexuality and fertility, pressure ulcers, pain, spasticity management including baclofen pumps and other pertinent SCI secondary complications. Additionally, we work very closely with
_____________
In Memoriam
Raymond J. Grill, MD

Raymond J. Grill, MD
Dr. Raymond J. Grill, associate professor of neurobiology and anatomical sciences and a member of the UMMC faculty since 2015, died May 30. He was 52. After receiving his dual BA in biology and psychology from Kenyon College, Gambier, Ohio, in 1988, Grill obtained his PhD in cellular biology and anatomy at the University of Cincinnati in 1995 and had a postdoctoral fellowship in the Department of Neurosciences at the University of California-San Diego. A faculty member at the University of Texas Health Sciences Center,

Meeting Highlights!
2018 Annual Meeting was a Huge Success!
Thank you to everyone who took part in the 2018 ASIA Scientific Meeting.
_____________

FASIA 2018 Award Recipients
Congratulations to ASIA's first FASIA Award Recipients. The inaugural Fellows of the American Spinal Injury Association were presented during a ceremony at the 2018 Scientific Meeting. Fellowship in the American Spinal Injury Association (FASIA) is bestowed by the Board of Directors in recognition of distinguished accomplishments within the fields of spinal cord injury research, clinical practice, education and advocacy, and for a longstanding active membership of service to the society. 2018 FASIA recipients include: Marcalee Alexander MD; David Apple, Jr. MD; Randal R. Betz MD; Fin Biering-Sorensen MD, PhD; Susan Charlifue PhD; Sam Colachis, III MD; Michael DeVivo, DrPH; John Ditunno, Jr. F. MD; William Donovan MD; Daniel Lammertse MD; Todd Linsenmeyer MD; Kenneth Parsons MD; Kristjan Ragnarsson MD; Mary Schmidt Read PT, DPT, MS; Lawrence Vogel MD; and William Waring III, MD.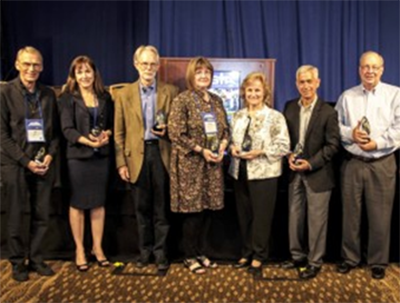 _____________
NEW Committee
Join the Committee for the Americas
Do you speak Spanish, French or Portugese? If so, please consider joining ASIA's new Ad Hoc Committee for the Americas.
SCI affects people in all corners of the world. The majority of cases are due to preventable causes such as road traffic crashes, falls or violence, mainly gunshots wounds. In the Americas, despite recent scientific improvements in the understanding of pathophysiology and better management of complications, SCI continues to have a disproportionate variability in outcomes between countries, especially those with less resources.
_____________
Calling All Trainers
ASIA Needs Trainers for the New Clinical Training Program!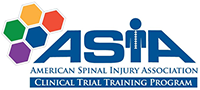 The American Spinal Injury Association (ASIA) is looking for additional trainers to join its Clinical Trial Training Program.
The Clinical Trial Training program was created in 2017, in response to a request by multiple agencies looking for trainers to teach staff, clinicians, and researchers the 'accurate' way to assess spinal cord injured patients and potential research subjects. This program will provide the opportunity for dissemination and training of the International Standards to the entire SCI community, including current and standardized
_____________


Congratulations to ASIA's affiliate SCOPE and the ASIA members who contributed to the paper, "Lower Extremity Outcome Measures: Considerations for Clinical Trials in Spinal Cord Injury." The article was chosen as the Editors Choice featured article for the July edition of Spinal Cord.
You can read the full article here.


_____________
ASIA Membership
New Clinic/Institutional Membership Categories Announced!

The ASIA Membership Committee is pleased to announce two new Clinic/Institutional Membership categories. The NEW Clinic/Institutional GOLD membership includes core benefits of the higher PLATINUM Clinic/Institutional membership, but with simplified benefit options. A full list of membership categories is available here on the ASIA website, and include:.
Annual Memberships (MD/PhD/DO/Allied Health)
(ASIA is flexible with Clinic/Institutional member types)
Annual Meeting Registrations
Ads/Announcements in ASIA Newsletters
Banner on the ASIA website
Ad in Annual Meeting Program!
Unlimited Job Announcements
Free e-learning
Contact Greg Leasure for additional information.



PRINT PAGE
Quick Links to
Important Information
---
ASIA Thanks the Following Partners
Our partners share our vision to improve the quality of life for people living with Spinal Cord Injury.



If your organization or
institution would like to
become a Partner, Exhibitor
or Supporter in 2019,
contact Dana Gibson.
The 2019 prospectus will
be available soon!
For more information, visit here.


---
---

Did you Know?  ASIA's Education and Electronic Communications Committee pull SCI research
articles for the ASIA website and social media?  Check out new
SCI Research articles here.
---
Welcome!

New ASIA Members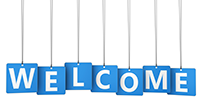 ASIA is pleased to announce the following new members who will add strength, expertise and vitality to our association.
Read More...


---
Share the News!
Members in the News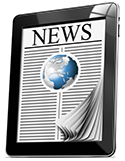 ASIA welcomes news of our members' newsworthy information. Please contact Carolyn Moffatt to share your accomplishments with your fellow members.
Send Member News...


---

While shopping online, give back to ASIA! Amazon will donate 0.5% of your purchases (excluding shipping, handling and taxes) to ASIA.
---