---
Winter 2018 Issue
President's Message

Keith Tansey, MD, PhD
By Keith Tansey, MD, PhD
ASIA President
Greetings! I hope the ASIA family has survived the worst of winter and is beginning to think of spring.  We are gearing up for our annual meeting in May at the Mayo Clinic in Rochester, MN and our great program has many new offerings.  In addition to fantastic plenary speakers, excellent courses and papers, and interactive poster sessions and vendor exhibits, we will offer a pre-course from Mayo Clinic faculty on non-traumatic myelopathy, a point-
Read More...
_____________
News & Updates
The International SCI Urodynamics Basic Data Set (2.0)

The ASIA International SCI Urodynamics Basic Data Set (version 2.0) is available for review. ASIA members are asked to review the data set and send suggestions or comments to Jurgen Pannek, chair of the committee know by February 28, 2018.
Read More...


The International SCI Lower Urinary Tract Function Basic Data Set (2.0)
The International SCI Lower Urinary Tract Function Basic Data Set (version 2.0) is also available for review.
Please review the document using the link below. If you have any comments or suggestions, please let the committee chair, Fin Biering-Sørensen know by March 10, 2018.
Read More...

_____________
News & Updates
Got Wheels?
Many of us do have wheels, in the form of cars, buses or bikes to get to work, school, worship or recreation. But if you are a wheelchair user, there are limits to how you can get around. Fortunately, many stakeholders, including the National Registry of Rehabilitation Technology Suppliers, the National Coalition for Assistive and Rehab Technology, United Spinal Association, National Multiple Sclerosis Society, and others, were able to claim victory after many years and months of
Read More...

_____________
News & Updates
The 39th Annual Spinal Cord Injury Model Systems OT/PT Leadership Forum
The 39th Annual Spinal Cord Injury Model Systems OT/PT Leadership Forum was held in Philadelphia this past fall.  Magee Rehabilitation Hospital and Thomas Jefferson University Hospital, partners in the Regional Spinal Cord Injury Center of the Delaware Valley Model System of SCI Care were pleased to host the event, as well as share a bit of the 'City of Brotherly Love.'  Representatives from former and current federally-designated SCI Model System Centers gathered from
Read More...

_____________
News & Updates
Check Out the New Book by Dr. Marcalee Alexander, ASIA Member and Past President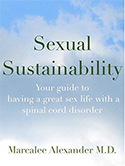 The book "Sexual Sustainability: Your guide to having a great sex life with a spinal cord disorder"  is for SCI patients and their loved ones.  Dr. Alexander is a Clinical Professor in the Department of Physical Medicine and Rehabilitation, University of Alabama at Birmingham as well as a Sexuality Telehealth Physician, Spalding Rehabilitation Hospital. This book is available here on Amazon and through the Kindle app.

_____________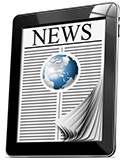 Share the News!
Members in the News
ASIA welcomes news of our members' newsworthy information. Please contact Carolyn Moffatt to share your accomplishments with your fellow members.
Send Member News...
_____________
Looking for a New Job?
Current SCI Job Postings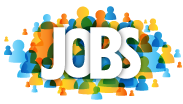 Spinal Cord Injury Medicine Physician-Scientist
Cleveland, OH
Inpatient Program Manager
Atlanta, GA

Job postings on the ASIA website run for a period of 60 days and are free for ASIA members.
Read More...
_____________
Please Note
Quick Links to
Important Information

Register Now!
Ready for Rochester!
The program is set, registrations are pouring in at a record rate, Tours are filling and so are hotel room blocks.  Don't wait to plan your trip to Rochester for ASIA's 2018 Annual Scientific Meeting (May 2-4, 2018) at the Mayo Civic Center and Precourse (May 1, 2018 at the Mayo Clinic).  Complete program, registration and hotel information is available online in the Mobile Meeting Guide.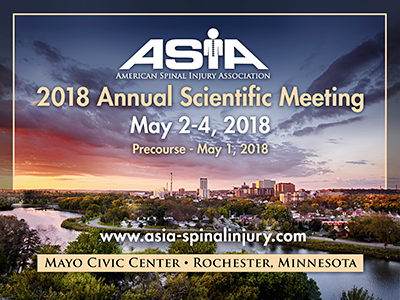 Meeting Highlights
Case Reports • Courses • General Sessions and Posters • Coffee with the Professor • Mentorship Opportunities • Awards • Mayo Clinic Guided Tours • Round Rooms

_____________
Keynote Speaker
Lisa Harvey, PhD
Professor at John Walsh Centre for Rehabilitation Research
Sydney Medical School in Australia

Lisa Harvey, PhD
Can Rehabilitation Increase Strength and Motor Recovery Following SCI?
Professor Lisa Harvey has 20 years clinical experience in spinal cord injuries. She currently holds an academic position at Sydney Medical School, University of Sydney where she teaches, runs her own research program and supervises PhD students. She has over 130 publications which include clinical trials and systematic reviews. Most of her research has focused on putting an evidence base to widely administered physiotherapy interventions. She is currently principal investigator on some large multi-centered clinical trials being run in Australia and Asia.

_____________
Keynote Speaker
Wolfram Tetzlaff, MD, PhD
Director of ICORD
Vancouver, BC, Canada

Wolfram Tetzlaff, MD, PhD
Ketogenic Diet for Spinal Cord Injury
Dr. Tetzlaff serves as Director of ICORD, the International Collaboration on Repair Discoveries, a multidisciplinary center for spinal cord injury research in Vancouver, BC. In his own laboratory, Dr. Tetzlaff leads a research program focusing on spinal cord injury modeling in rodents and experimental strategies for neuroprotection and neural repair after spinal cord injury. His group found that diets affect the cascades of secondary damage after spinal cord injury and can improve outcomes. In particular, intermittent fasting or Ketogenic Diet, even when initiated after SCI, improved outcomes from spinal cord injury in rats and elicited neuroprotective effects.

_____________
Keynote Speaker
Anthony J. Windebank, MD
Professor of Neurology
Mayo Clinic

Anthony J. Windebank, MD
Tissue Engineering for Repair of Spinal Cord Injury
Dr. Windebank is a neurologist who specializes in the diagnosis and treatment of patients with diseases of the peripheral nervous system and spinal cord. Since 1980, he has been involved in the design or conduct of more than 50 clinical trials and clinical studies. Dr. Windebank's lab research includes repair and regeneration after peripheral nerve or spinal cord injury, treatment of amyotrophic lateral sclerosis and the mechanism of neuronal cell death caused by chemotherapeutic agents. The laboratory coordinates the research activities of a multidisciplinary team with members from the Departments of Neuroscience, Biochemistry and Molecular Biology, Biomedical Engineering, Physiology, Neurology, Neurosurgery, Physical Medicine, Orthopedics and the Comprehensive Cancer Center. Dr. Windebank has published more than 400 scholarly articles or abstracts including more than 220 full-length publications in peer-reviewed journals.


_____________
ASIA Membership
New Clinic/Institutional Membership Categories Announced!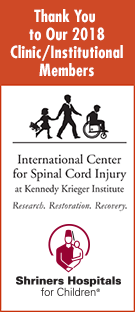 The ASIA Membership Committee is pleased to announce two new Clinic/Institutional Membership categories. The NEW Clinic/Institutional GOLD membership includes core benefits of the higher PLATINUM Clinic/Institutional membership, but with simplified benefit options. A full list of membership categories is available here on the ASIA website, and include:.
Annual Memberships (MD/PhD/DO/Allied Health)
(ASIA is flexible with Clinic/Institutional member types)
Annual Meeting Registrations
Ads/Announcements in ASIA Newsletters
Banner on the ASIA website
Ad in Annual Meeting Program!
Unlimited Job Announcements
Free e-learning
Contact Greg Leasure for additional information.



PRINT PAGE
Download the
2018 ASIA Mobile Meeting Guide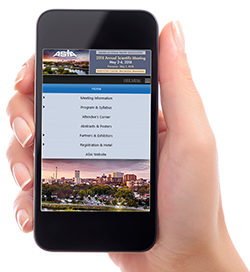 Everything about the meeting in the palm of your hand!
Get it HERE


---
ASIA Thanks the Following Partners
Our partners share our vision to improve the quality of life for people living with Spinal Cord Injury.


If your organization or institution would like to
become a Partner, Exhibitor
or Supporter in 2018,
contact Dana Gibson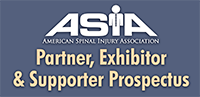 For the prospectus
CLICK HERE


---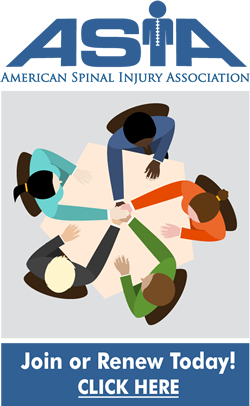 ---
Welcome!

New ASIA Members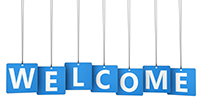 ASIA is pleased to announce the following new members who will add strength, expertise and vitality to our association.
Read More...
---

While shopping online, give back to ASIA! Amazon will donate 0.5% of your purchases (excluding shipping, handling and taxes) to ASIA.