.


International Standards for Neurological Classification of Spinal Cord Injury (ISNCSCI) (Revised 2019)

The 2019 revision of the International Standards for Neurological Classification of Spinal Cord Injury (ISNCSCI) was released at ASIA's 2019 SCI Summit in Honolulu. This revision introduces two new concepts: 1) a new taxonomy for documentation of non-SCI related impairments such as peripheral nerve lesions or pain, and defines classification rules in the presence of such non-SCI conditions; and 2) the definition of the Zone of Partial Preservation has been changed and now can be used in some cases of incomplete injuries (ASIA Impairment Scale (AIS) grades B, C, and D) with absent motor function or sensory function in the most caudal sacral segments. Read more about the 2019 revisions.
The pocket-sized International Standards booklet defines for SCI a standard method of assessing the neurological status of the patient, as well as a standard approach to using such data for classifying/quantifying the injury. The goal is that both the measurement technique and the use of the resulting data, clinically and in research, should be consistent across practitioners and researchers. This is shipped along with the booklet "International Standards to Document Remaining Autonomic Function after Spinal Cord Injury (ISAFSCI)".
Download a PDF version of the ISNCSCI worksheet or the Autonomic Function Assessment Form for free
---
Guidelines for Use of Durable Medical Equipment For Persons with Spinal Cord Injury & Dysfunction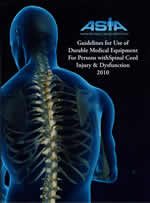 This comprehensive guide, the result of the work of the ASIA Rehabilitation Standards Committee, provides information about DME as it relates to the general and specialized needs of persons with SCI/D. The guide, 152 pages in a soft cover book, describes the available DME that may meet the complex needs of individuals with SCI/D throughout the continuum of life. The recommendations on types of equipment are not intended to be prescriptive, but rather to serve as a guideline. Special consideration has been given throughout to what is considered medically necessary/beneficial. Photos are included in all DME categories.
** ASIA members can download the full DME guide for free from the Members Only section of this website.
(ASIA Online Learning Courses are available on the ASIA Learning Center site.)