Sponsored by ASIA and Jefferson College of Rehabilitation
Sciences Center for Outcomes and Measurement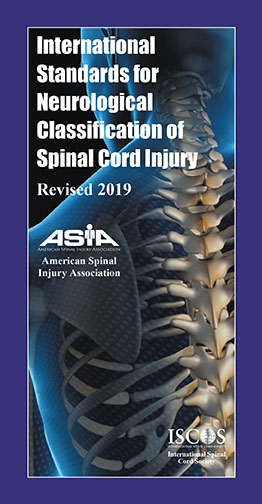 ISNCSCI and CUE-T Training    
January 25, 2020
Bluemle Life Sciences Building
Philadelphia, Pennsylvania
REGISTRATION DEADLINE – December 31, 2019
$200.00 REGISTRATION Includes:
2019 Revised ISNCSCI booklet
Access for one year to ISNSCI elearning module at no cost
Chance to win CUE-T kit
Lunch
(Note: Minimum number of attendees to hold this course will be 25)
---
Course – Performing the 2019 Updated ISNCSCI Workshop
This workshop is designed for clinicians to learn the basic components and use of the current 2019 updated International Standards for Neurological Classification of Spinal Cord Injury (ISNCSCI), previously known as the ASIA exam.
This intermediate to advanced level workshop will address:
1. Review of the 3 main components of the examination –
motor, sensory and anorectal, including challenging aspects of the examination and recent changes
2. The ASIA Impairment Scale (AIS) for classification appropriate terminology
3. Challenging cases involving spinal cord injury level, severity, and classification.
---
Capabilities of the Upper Extremity Test (CUE-T) Course
This section of the workshop will provide clinicians training on the administration and scoring of the Capabilities of the Upper Extremity (CUE-T). The CUE-T is a spinal cord injury specific instrument and evaluates performance aspects of upper extremity function including unilateral, bilateral, proximal and distal functions.
This workshop will address:
Review each CUE-T examination item and the item intent
Provide training in conducting the CUE-T examination including equipment set up, procedure and
directions to participant
Review CUE-T scoring for each item
This workshop will provide education and strategies to refine the participant's skills with administration of the ISNCSCI examinations and CUE-T.
Co-Sponsored by ASIA and the JCRS Center for Outcomes and Measurement