SAVE THE DATE!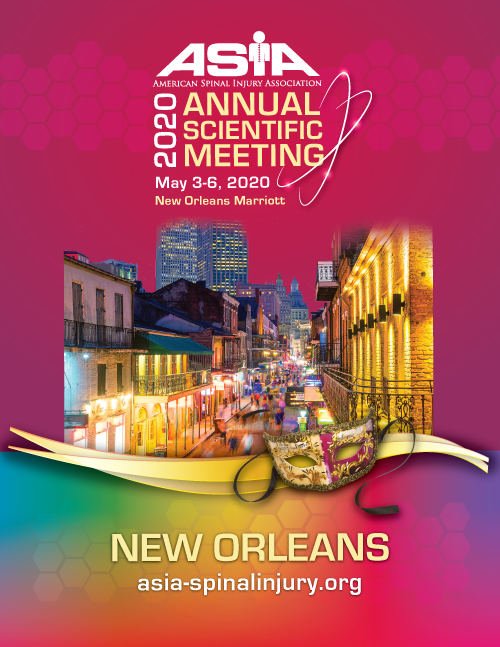 2020 Annual Scientific Meeting
May 3-6, 2020
New Orleans Marriott
Now Accepting Abstract & Course Submissions!
Submission Deadline: September 10, 2019 at 11:59:59 pm ET

The American Spinal Injury Association (ASIA) invites Researchers, Clinicians, and other SCI Professionals to submit Abstracts for Oral, Poster/Short Talk Presentations, and Courses to be presented at the 2020 Annual Scientific Meeting, May 3-6 in New Orleans.
While ASIA is interested in ALL areas of spinal cord injury-related submissions, we emphasize themes and topics most mentioned in evaluation feedback and requested by committees. For the 2020 conference, there will be a priority on translational research submissions.
Prioritized Theme: Translational Research
Qualified Translational Research abstracts cover topics that address bench to bedside to bench translational research (see definitions below). Each submission should be problem/system-focused and include a basic science and/or pre-clinical researcher AND a clinician and/or clinical researcher. Inclusion of at least one early career presenter (Assistant Professor or lower) is encouraged.
For the purpose of this abstract call, we define bench to bedside translational research as: the path taken to translate basic science/pre-clinical animal research into clinical research and/or practice, or to increase our understanding of important disease processes.
Bedside to bench translational research is defined as: the movement of ideas/concepts/questions from the clinic to basic science/pre-clinical animal research in a way that drives the development of specific testable hypotheses in appropriate animal models, that will ultimately improve existing interventions or develop new interventions, models or approaches in humans.
PRESENTATION STYLES

Abstract: Poster/Short Talk Combination
Abstract: Oral Talk
60 Minute Course
90 Minute Course

IMPORTANT SUBMISSION DATES

Abstracts for Oral, Oral/Poster Combination Presentations and Courses (60 & 90 minute) should be submitted before:

September 10, 2019 at 11:59:59 pm ET
Begin the Submissions Process Here
---
You may also indicate during the Abstract Submissions process whether you would like to be considered for one of the following awards:
The Anthony F. DiMarco MD Fellowship Award is an annual award given to a clinical resident or fellow in training in Physical Medicine and Rehabilitation with the goal of fostering research in spinal cord injury, engaging individuals in training and enhancing membership in ASIA. Submitted abstracts will be forwarded to the Awards Committee for final award selection.
(Please click here for details and eligibility.)
---
The Translational Research or Human Neuroscience Studies in Spinal Cord Injury Award (TRoHNS) – Eligible abstract submissions should relate to mechanistic, non-human SCI research that is translatable to humans or pre-clinical trial human neuroscience SCI research.
(Please click here for details and eligibility)
---
Mulcahey Award – Eligible submissions should relate to outcome measures (or outcomes research)
(Please click here for details and eligibility)