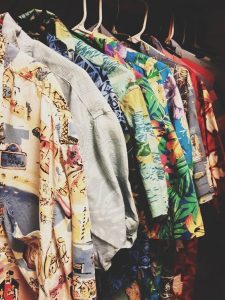 In keeping with local tradition, appropriate presentation attire at our meeting this year will be semi-professional island "Aloha" wear.  For men, this would mean a nice Hawaiian shirt and slacks, for women, the same or a Hawaiian dress.
The concept of "Aloha" attire stems from the Aloha hawaiian shirt.   Aloha attire means men wear Aloha shirts and women may wear tropical prints.
Shirts are printed, mostly short-sleeves and collared. Aloha shirts are usually not tucked in and are worn by men and women.  Aloha shirts are regarded as the equivalent to a shirt, coat, and tie in business settings.
Women may choose Aloha shirts with dress pants or a skirt.  Floral dresses are appropriate for after hours. Dressy sandals or shoes with more coverage are OK.  Suits, ties, flip flops and grass skirts are discouraged during presentations.