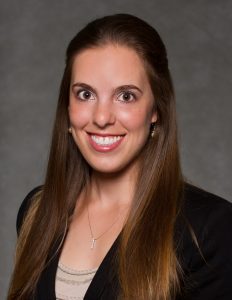 Brittany Snider, DO
How long have you been a member of ASIA?
Since January 2017
Why did you choose the SCI field?
I love working in acute inpatient rehabilitation, and my favorite rotations in medical school and residency have been on the SCI unit. It has been especially meaningful to care for this patient population. I learn from my patients every day, and I appreciate that they are true partners in their care. SCI medicine also enables the formation of strong, long-term relationships with patients. Additionally, I am very fortunate to have excellent clinical and research mentors who are giving of their knowledge and time. Their influence has also attracted me to the specialty. Finally, I am amazed by the advances being made in SCI research, and this is such an exciting time to join the field.
Most recent accomplishments:
I recently joined the ASIA Education Committee. I greatly appreciate this opportunity to be more involved in the organization and look forward to working closely with so many leaders in the field. Also, I was elected to the Association of Academic Physiatrists Residents/Fellows Council as Medical Student Affairs Representative. Increasing awareness of PM&R and providing opportunities for students to gain experience within the specialty has been especially rewarding. We are currently developing a mentorship program as well as a national medical student council, and I am very proud of these projects.
Why did you join ASIA?
I joined ASIA for its educational opportunities, wealth of knowledge and experience shared by its members, and camaraderie. Through my participation in ASIA, I am hoping to make a valuable contribution to the field.
Biography:
I grew up in the Midwest and majored in biology at Kalamazoo College, a small, liberal arts school. During college I studied abroad for six months in Cáceres, Spain. That is where I first fell in love with traveling, exploring Spain on weekends and taking time at the end of my semester to backpack across Europe with friends. After I completed my undergraduate degree, I moved to San Diego to work at Pfizer in Drug Safety Research and Development. I greatly enjoyed the research, as well as California's endless summers, but I wanted more direct patient interaction and returned to Michigan for medical school at Michigan State University College of Osteopathic Medicine. I completed my internship at St. Vincent Hospital in Indianapolis and recently began my PM&R residency training at the Mayo Clinic. In addition to traveling, I enjoy spending time with friends and family, live music, hiking, playing tennis, and photography.